Anda Seat Dark Knight Gaming Chair Review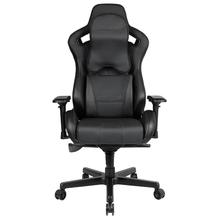 Today we will be taking a closer look at Anda Seat's Dark Knight Series Gaming Chair. However, I want to start off by saying I am usually one of those people who would tell you that the best gaming chair is whatever you have at your desk. Personally having gone through at least 6 different name brand gaming chairs in my life and several standard office chairs which usually seem to provide more than adequate support during long sessions at a desk. In my opinion, it's always been the gamer's skill that really matters but I think I now have to take that back.
Who is Anda Seat? Well based on what's on their website they had an interesting start as a manufacturer in 2007 and focused on building Racer chair for enthusiasts. In 2012, they saw an opportunity to jump into the gaming space and took the leap manufacturing for others. Then in 2016 Anda seat was born as there in house brand and have been expanding globally since.
Now let's get started.
SPECIFICATIONS:
Model Name
Dark Knight
AD12XL-01DARK-B-PV/C-PRO
Maximum Seat Depth
21.65"
Foam Type
High Density Mould Shaping Foam
Minimum Seat Depth
20.08"
Adjustable Back Angle
160°
Maximum Seat Width
22.83"
Foam Density
60-65 Kg/M³
Minimum Seat Width
16.14"
Frame Construction
Metal
Maximum Arm Height
15.63″
Chair Cover Material
Carbon Fiber / PVC Leather
Minimum Arm Height
12.76″
Base Type
5-Star Metal Base
Backrest Height
34.21"
Caster Size & Material
3″ Caster/PU
Backrest Shoulder Width
23.82″
Armrest Pad Size
10.6″L X 3.9″W
Gross Weight
73.85 Lb / 33.5kg
Mechanism Type
Multi-Functional Tilt
Net Weight (Approximate)
72.75 Lb / 33kg
Seat Size
16.14″W(Front) X 14.96″W (Back) X 19.29″D
Gas Lift Specification
65/50
Recommended for
Height: 5'6″ – 7″1″
Weight >350 lbs – 441lbs
Gas Lift Class
4
The reality is a good chair, in general, not only provides extra cushion for your rear end but more importantly your back and neck. Making a huge difference in gaming, comfort, and health. As we take a look at Anda Seat's Dark Knight I will also be breaking down what made such a huge impact for me.
As mentioned I have used a total of at least 6 different gaming chairs over my lifetime. The sad reality is that I personally didn't think much about them when purchasing them other than, will it support me properly since I am a big guy.
Let's take a look at key features to look for when purchasing a gaming chair.
Height control – A fairly standard function on nearly all office chairs. But not all provide an SGS certificated Class 4 hydraulic piston for us bigger guys. Which provides great stability.
Materials: the Dark Knight Line combines polyurethane (PU) leather with carbon fiber-textured vinyl accents for its coverage and uses a high-density mold shaping foam that feels like you have tons of padding. While we can't attest to the long-term sturdiness of the materials, they seemed pretty strong. Specifically the PU leather, I found it to be the most dense-feeling and leather-like compared to other chairs used in the past. Only time will tell.
Pillows – Yes, I said pillows. which provides added lumbar and neck support. Anda Seats did an awesome job with their unique design covering just the right amount of my lumbar area while being comfortable. The unique neck area feels great and gives me just the right amount of support letting me rest without leaving my seat.
Capacity – The Dark Knight Black can impressively handle 441lbs and features a deeper 21.65″ seat, so it's worth considering if you prefer space or if you are just a bigger guy.
Assembly – Like every other gaming chair ever built, the Dark Knight Black ships unassembled. It's split into four main parts: the seat, Backrest, armrests, and the base.
It's fairly straight forward, but you really get a feeling for the quality during the building process from the materials to the construction.
The Anda Seat Dark Knight gaming chair is a large, well-made piece of furniture with dense padding and impressive faux leather. Great for larger users. I personally was impressed by its build quality, which feels a bit more solid and sturdy than the other chairs i have had (a few of which were top name brands).
Pros:
Unique kneck and lumbar memory foam pillows.
Premium PU leather with carbon fiber-textured vinyl
Multi-Functional tilt mechanism
Dense, generous foam padding.
King size 65 mm PU covered wheels
441lbs weight capacity.
Sturdy build
Lifetime Warranty on the frame | 6 Years Warranty on the parts.
Cons:
Price is on the high side at $429.99