Antec Announces New Katana DDR4 Memory Series for Enthusiasts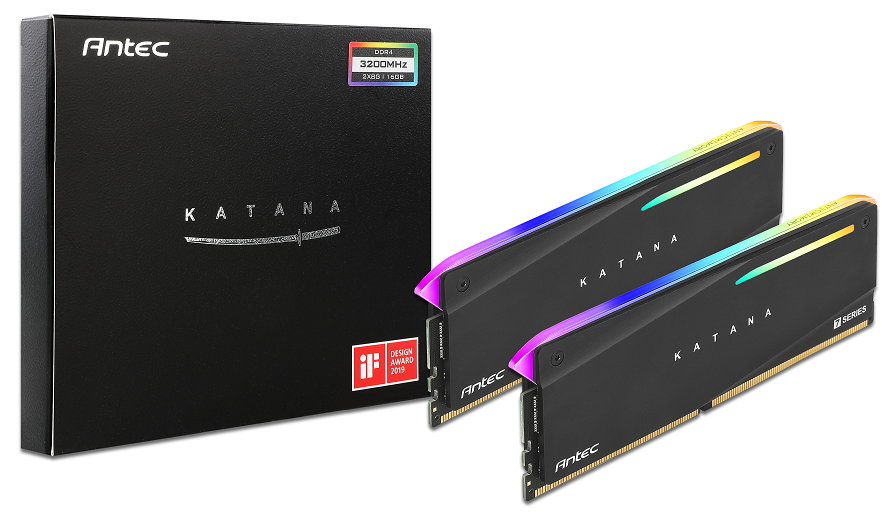 Fremont, California, May 20th 2020 – Antec, a leading provider of high-performance computer components and accessories for the gaming, PC upgrade and Do-It-Yourself market, broadens its range of memory with the new Katana DDR4 Memory.
Inspired by the Japanese Samurai sword and its blade, the Antec Katana features a soft silhouette with metallic shine and lighting, adding extra style to the dream builds. "With our Katana memory modules, Antec aims at enthusiasts buying their stylish gaming cases and looking to add stylish designed components by the same brand", explains Eric Chen, Vice President at Antec. "Katana shows off a metallic shine on the silver lighting bar, while, lit up, Katana glows with soft and harmonious light effects."
The distinctive Aluminum heatsink offers excellent thermal conductivity to ensure great cooling performance even during overclocking. Katana provides extensive freedom of customization with a vast array of modes and ARGB functions via motherboard synchronization.
Antec was a winner of 2019 iF DESIGN AWARD, a world-renowned design prize. The winning product, KATANA, won in the discipline product, in the Gaming Hardware/VR category. Each year, the world's oldest independent design organization, Hannover-based iF International Forum Design GmbH, organizes the iF DESIGN AWARD.
See more information here: http://www.antecmemory.com/product/7Series.html