Miroir SYNQ M189 HD Projector Review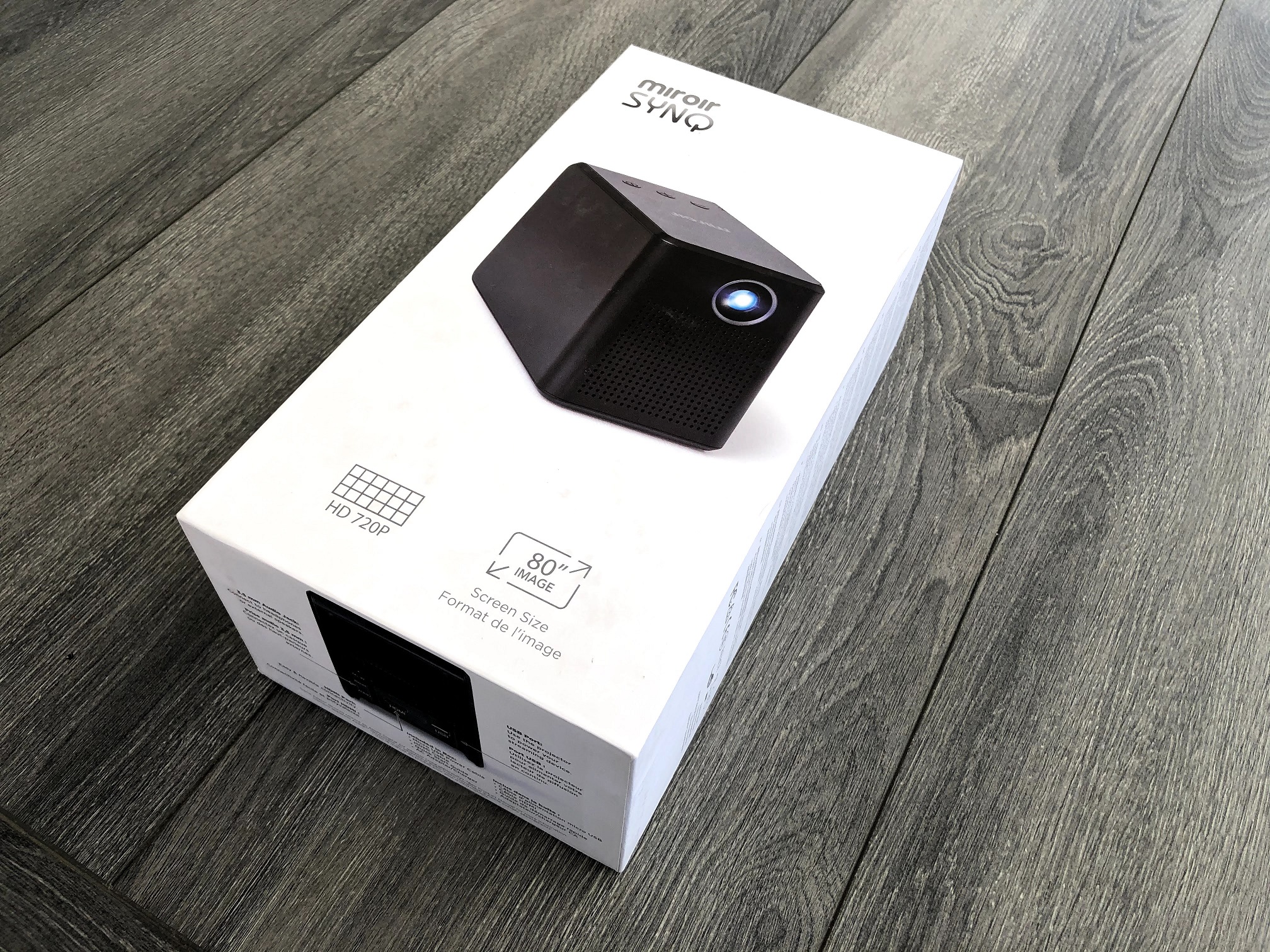 If you are stuck at home and looking for a projector to move movie night outdoors, prepare yourself to face an ocean of clones. Everything from the look and even button layouts are nearly identical from one brand to the next. But recently we have seen a few new unique options pop up and the Miroir SYNQ M189 HD is one of them. Now, It's not exactly a traditional home projector. Mainly because it's not meant to be mounted to the ceiling (Note: it can be if needed, but why would you). Instead, Miroir sees this projector as something you take with you wherever you want big-screen entertainment.
Now luckily we got a unit to test, so let's see if this unique design can stand up to traditional projectors.
SPECIFICATIONS:
| | |
| --- | --- |
| Recommended Screen Size: | 80″ |
| Native Resolution: | HD 1280 x 720 (720p) |
| Brightness: | 200 Lumens |
| Contrast Ratio: | 400:1 |
| Battery Life (Up To): | 3 hours |
| Connectivity: | (HDCP 1.4) 1 – HDMI input; 3.5mm audio; USB – type A charge/power |
| Dimensions: | 6.4 x 3.4 x 4.3 inches |
| Weight: | 2 lbs |
PRODUCT IMAGES
BUILD QUALITY
Unlike a traditional lamp or laser projector Miroir has chosen to instead use an LED light source in the SYNQ M189 HD. Unfortunately, as we have seen with other LED projects this usually means I should expect it not to provide impressive numbers as it relates to lumen output, quality imaging, and just producing less desirable imagery overall but LED projectors do have some great benefits. For example;
A 20,000 hour LED life and no need to replace the projector lamp.
Portability,
Energy-efficient. In this case, being able to provide 3-hours of streaming on the go.
As it relates to the actual product look and feel. The SYNQ M189 HD housing has a solid build feel and comes in a sleek matte finish plastic and although the shape reminds me of a mini UPS backup it still looks pretty cool. Having said that, we did have some concerns when it comes to the connectivity compartment lid. It happens to have the only mount point on the projector but turns out its stronger than we thought as we mounted it on a tripod and took it everywhere ( Backyard, park, and game room ) for a month and it is not showing any sign of wear or flex. We still wouldn't depend on this long term but it does the job.
The 5-watt built-in speaker was surprisingly powerful and although its sound is impressive I would still suggest using an external option.
Battery Quality:
Now let us see if the SYNQ M189 HD stands up to its 3-hour streaming claim.
The SYNQ M189 HD uses a 2,600mAh Lithium-polymer battery
Projecting from a notebook:
Projecting and powering a FiteTV Stick (Non-4K): 2hrs 28min
Projecting and powering a Roku: 2hrs 5min
IMAGE QUALITY
After some testing in different environments, the video quality is surprisingly ok. I would not recommend this for anything that requires a very crisp HD image, but for showing clips and even full-length movies while camping or a back yard pool party, I think it is a great portable projector provided you're in a fairly dark environment.
Color balance was good, with the only issue a hint of blue in some white-dominant images.
The SYNQ M189 HD does have its faults and does horribly when significant ambient light enters the picture. it's not surprising but if you are in a tight spot it does the job and stays portable.
Ultimately in a dark room, images look good at sizes up to at least 75 inches (measured on the diagonal), but the video looks washed out when the screen is more than about 20 inches, once ambient light comes into play.
VALUE
At $329.99 (Sep. 13, 2020) the Miroir SYNQ M189 HD comes in strong, compared to other similar projectors out in the market. Similar spec projectors like the Anker Nebula Capsule II (at $579.99), or the KODAK Luma 450 ($549.99) have similar specs, at much higher price points.
SUMMARY
The Miroir SYNQ M189 HD projector is a pretty impressive portable projector. For years I have been using an Epson projector outdoors and have managed to do the job fairly well. But to be honest it still performed much better in daylight compared to the SYNQ. What won me over with the SYNQ was its portability, Battery life, and just overall experience. I can take it just about anywhere, it be a meeting, patio, or outdoor adventure i can project content just about anywhere.
Pros:
Portable
Battery life
Fits my FIRETV Stick perfectly on the go
Tripod mountable
Great Image quality
Surprisingly powerful built-in speaker
Cons:
Needs to be pretty dark to make out a clear image
Would prefer the connectivity compartment lid to be sturdier
The mounting point is part of the lid that doesn't feel too safe. would have preferred it be on the main chassis.