VIOTEK FI24D 24″ Monitor Review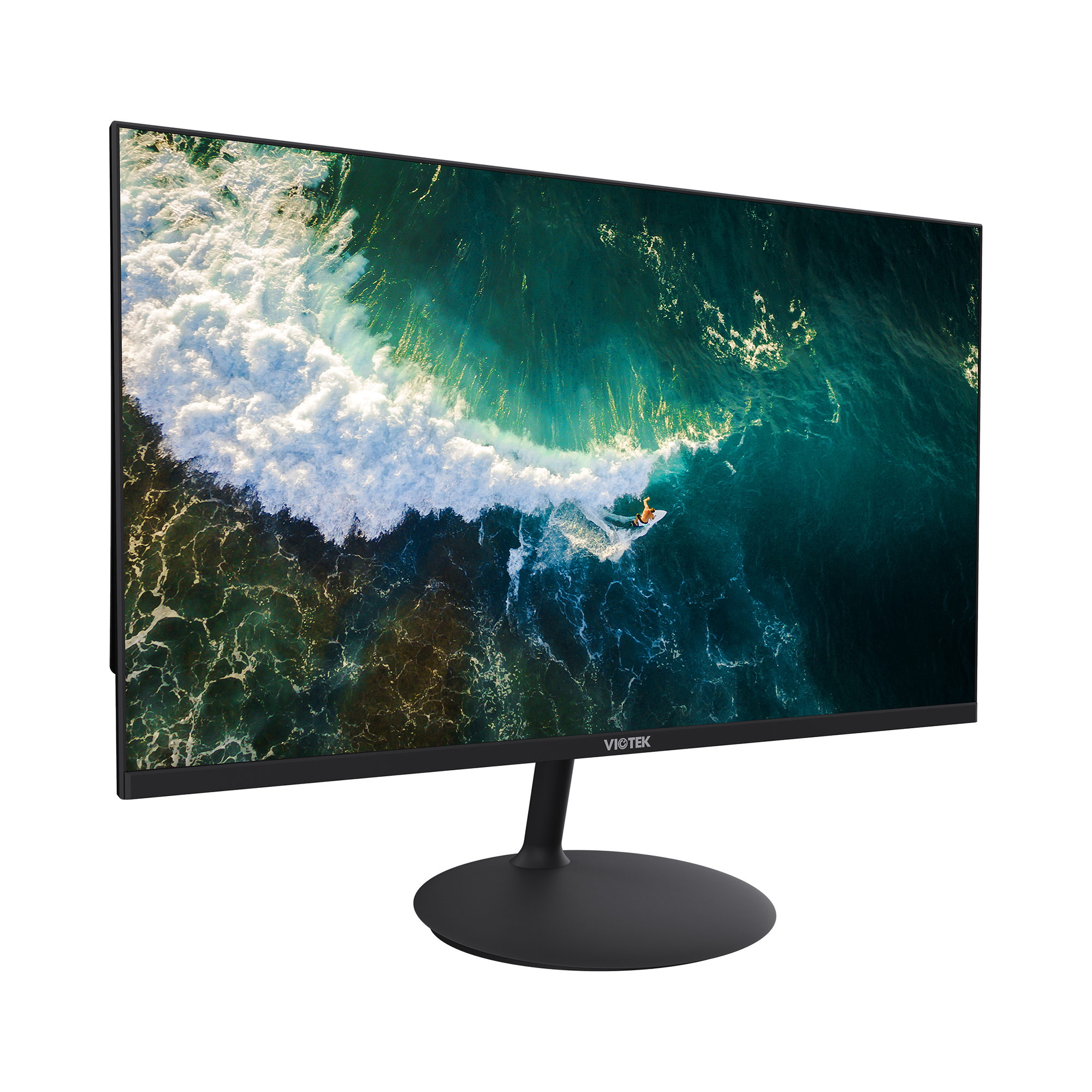 Viotek is a company with a fairly long history in the PC components and periferals industry and although they were not really known for quality have recently made a strong comeback with there line of performance gaming monitors. Some even earning Editor's Choice Awards from sites like TomsHardware and PCGamer. Although, Viotek's main focal point has been making high grade gaming monitors ranging from casual budget friendly gaming products all the way up to top rank quality high end gaming monitors. Today we'll be focusing on Viotek's FI24D 24″ IPS monitor and seeing how it functions as a gaming monitor but more importantly a workstation monitor for content creators.
Unpacking
The FI24D was shipped in a standard brown box, with custom Viotek black graphics. Nothing flashy but at this price point I am not surprised. I might've preferred to be packed in a bigger box with more padding or cushioning. However, after opening box, the monitor itself had a thick styrofoam custom molded on to the monitor which provided more than adequate protection during shipping. We can also see all box contents once the styrofoam mold is removed, included are monitor stand, required screws with screw driver included, mounting screws, power cable HDMI cable and user manual.
Specifications
Model Number: FI24D
Screen Size: 23.8
Display Panel: IPS
Viewing Angle: 178° (H)/ 178° (V)
Aspect Ratio: 16:9
Resolution: QHD 2562 x 1440p
Refresh Rate: 60Hz (Overclock: 75Hz)
LED indicator: Power on: Blue (solid); Power Saving: Blue (flashing)
Brightness: Typical: 220 cd/m²
Default Color Temperature: 6500
Color Gamut: 92% sRGB; 68% NTSC
Contrast Ratio: 1000:1
Dynamic Contrast Ratio: 1M:1
Pixel Pitch: 0.2058 x 0.2058mm
Response time 8ms GTG (OD)
Display Colors 16.7M colors
Ports: DisplayPort x 1, HDMI x 2, Audio out x 1
Power: AC100 -240V 50/60Hz
Adapter: DC12V, 3.0A
Power Consumption: Typical:28W; Max: 42W; Standby ≤ 0.5W
Usage Temp: 32°F~104°F (Operating), -4°F~ 140°F (Storage), 10- 85% RH (Non-Condensing)
Tilt Angle: Forward 5°; Backward 15% (±2°)
VESA Mounting: 75 x 75mm
Dimensions (with stand): 21.3 x 16.4 x 8.2 in (541.6 x 417.6 x 207.33mm)
Weight (with stand): 5.84 lb (Net) / 8.04 lb (Gross)
Design
When I look at the Viotek FI24D 24″ monitor, the first thing that pops into my head is simplicity, like most monitors it is made of a matte black plastic but you see details in the back where they at least try to give it a clean elegant look. The fairly thin bezels and black finish make it seem perfect for a home or office space. Bezels are thin enough that it can be used as a dual monitors and easily be used side by side without it interfering too much.
On the back of the monitor we have 4 VESA mounting holes for mounting the monitor to the wall, and a monitor stands consisting of a stem and a base, which can be attached to the back of the monitor giving you an extra 3.8″ of height adjustment. The monitor stand can be tilted 5° forward or 15° backward. Although the monitor stand seems stable, I did notice the monitor is a bit extra wobbly whenever the desk is slightly bumped into, just enough for me to take notice, but no big issue, you can always go the VESA mount route which I see many doing with this anyway.
Menu settings and ports
To adjust menu settings on the Viotek FI24D, there are 5 buttons located below the logo that can help navigate through your desired OSD settings, it does take some time to get used to navigating the menu as it feels somewhat complex compared to other monitors. With a wide range of customization options, the menu can be a little overwhelming for most, but does have presets such as ECO mode, Standard, Text, Movie, Game, FPS, and RTS that can be switched too, to optimize your experience based on activity. Also, you can select Game plus modes and choose the best crosshair suited for your shooting game.
All ports are located on the rear bottom left side of the monitor. Here you will see the 2 x HDMI ports, 1 x DisplayPort, and 1 x Audio out port. Extra ports means you can connect other media devices such as gaming consoles or Media boxes such as a FIreTV Stick or Roku.
Performance
On the Viotek FI24D product page, it does state it is a gaming monitor so it is important for me to run some popular video games and put it to the test. Now you will see a noticeable difference compared to the standard 60 Hz refresh rate monitor in smoothness but to be honest most serious gamers will probably opt for a 144Hz monitor. As for colors, the Viotek FI24D held up very well with rich vibrant colors which is to be expected from an IPS panel. IPS panels (In-Plane Switching) provide the most accurate color renditions, best viewing angles and when you do a side by side comparison of a TN or a VA panel you will immediately understand what a difference it makes. This is why IPS panels are usually the panel type of choice for content creators.
As for gaming, I did go a few rounds on Fortnite and was impressed with the gameplay. When viewing monitor through different angles it does not lose luminance and does not shift to different colors on any angle, keeps colors uniform anyway you view the monitor. But, although it did fairly well during our gaming testing, we still would recommend a monitor with at least 144Hz refresh rate.
Like many IPS panel monitors, I found this monitor to be more suitable for photo and/or video editing or even perfect for an office environment. In the end, I would have to say this is a great budget monitor for content creators as it relates to its overall performance.
Pricing
To compare retail pricing, we found comparable models in Acer Nitro VG240YU ($229.99), ViewSonic VG2455-2K ($286.99), and Lenovo L24q-30 ($255.11) all of them being 24″ 1440P IPS 75hz refresh rate monitors. Viotek FI24D ($159.99 on Viotek website) blows the competition out with excellent value. You get same visual experience as those big name brands without the high cost and a 3 year warranty to back it up.
Conclusion
Viotek hasn't been in the industry as long as other longstanding companies, such as Asus or Acer, but is certainly making a strong comback amounting a very impressive, quality, and reasonably priced gaming monitors collection that can stand toe to toe with the best. The Viotek FI24D is certainly not the best performing monitor but worth a look at if you're looking for a straightforward yet stylish monitor that is has vibrant colors and performs well in multiple enviroments. What makes it even better is that you don't have to break the bank and you can still get a simple but great looking gaming-friendly monitor.