Antec P120 Crystal Case – Review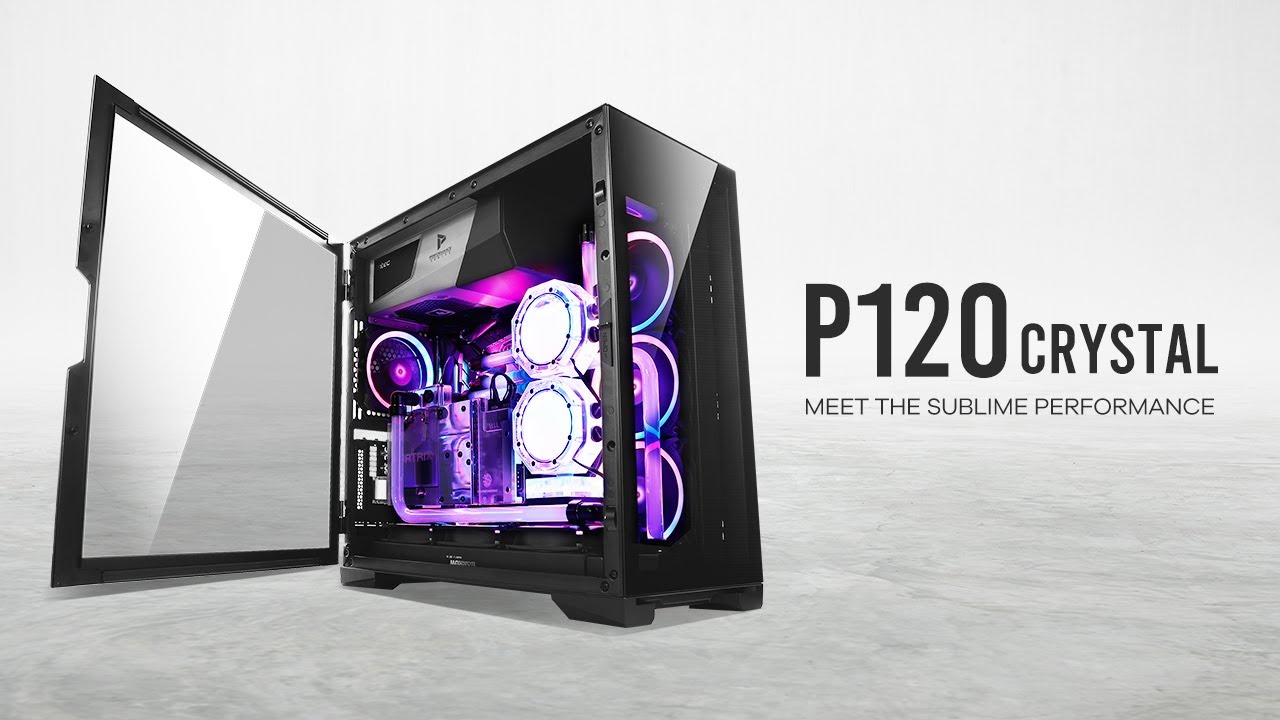 Today we are taking Antec's new P120 Crystal case for a spin. Antec has of lately been changing its image and has parted from offering standard run of the mill cases, and its back to more performance yet stylish designs.
So who is Antec?
Really??? I really don't think I need to make an intro for them but for those who don't know, here we go.
Founded in 1986, Antec is recognized as a pioneer in the industry and has maintained its position as a worldwide market leader and an international provider of quiet, efficient, and innovative products. I personally was a huge fan of their Nine Hundred case back in 2006 when I was Head of R&D at ABS Computers A.K.A. Newegg. Its was hard to find a company making real performance cases and the Nine Hundred case was jsut the right fit back then.
Anyway, Antec is now headquartered in Fremont, California, with additional offices in Rotterdam, The Netherlands, as well as in the UK, Germany, France, Spain, Italy, China and Taiwan. The company's products are sold in more than 40 countries throughout the world.
Packaging:
I am always nervous when receiving any case with tempered glass. Especially when it comes in a standard PC case looking box. It may have to do with the fact that I have received my share of broken panels. What made this one a little nerve-wracking was that the box came with a bit of shipping damage. But after opening the box, I was pleased with the packaging and everything arrived as it should. Not only did it not use cheapy foam to hold it in place they used polystyrene and cardboard combo with a fabric bag for the chassis itself.
Lets take a closer look
Quality:
This tempered glass beast is definitely built to impress. Starting with the chassis, it certainly was a very well thought out design. With nearly limitless cooling possibilities (once you add fans or radiators of course) and a lot of great aesthetics. See unlike most tempered glass cases the tempered glass side panel is not secured with thumbscrews, you have a clean sliding button design allowing you to gain access to the internals in seconds. Making it a great design for those needing quick access to keep their system clean or for others like me who frequently tweak or upgrade their system all the time. Like most cases, it is a Steel design but the construction is pretty solid.
Specifications
Full Product Spec:
Case Material: Steel / Tempered Glass
MB Compatability: Micro ATX / ATX / ITX / E-ATX
PCI Slot: 7 + 3 Vertical Slots
I/O: 2 x USB3.0 | Audio | Mic
PSU Slot: Top mounted (Max Length: 294mm)
Dimensions : 19.09″ x 9.21″ x 18.74″
Net Weight: 22.93 lbs.
Cooling Support:
Fan/Cooling support: Supports 7 x 120mm or 6 x 140mm case fans

Bottom: 3 x 120mm / 140mm fan
Rear: 1 x 120mm / 140mm fan
M/B Side: 3 x 120mm or 2 x 140mm fan (1 x HDD Bracket needs to be removed when installing 3 x 120mm)

Radiator Options:

Bottom: up to 360mm
Rear up to 120mm
M/B Side: up to 360mm (All 3.5″HDD Brackets would need to be removed)
IIN Radiator setup recommendations:
Single radiator scenario:

Bottom mounted Radiator- 360mm x 60mm
Pump and reservoir M/B Side-mounted. EKWB has some great reservoir pump combos.

Dual radiator scenario:

Bottom Radiator- 240mm x 60mm,
M/B Side Radiator- 360mm x 45mm
Pump and reservoir bottom-mounted by the radiator.
Storage option:
2 x 3.5 (Removable cages)
2 x 2.5 SSD (Hidden on Non-Tempered glass side.)
Additional feature:
Easy cable management(Plenty of locations to secure cable ties)
4 Antec branded velcro cable tie strips included
The 3.5″ drive caddies can be fully removed to make more space
The tooless tempered glass design: The tempered glass is screw-less to allow sturdy and easier installation
Magnetic dust filter fo side panel.
Bottom sliding dust filter
VGA anti-sag bracket
Included Screws:
20x screws for motherboard and SSD mounting
9x screws for mounting 3.5″ HDD's
4x PSU screws
4x spare standoffs
3x spare screws for mounting
3x spare rubber ant vibration washers
Installation
During the installation process, my only concern was the power supply (PSU) positioning as it is located at the top of the case, right above the motherboard. Causing the PSU to pull hot air from inside the case into the PSU and then out the back. I was a little surprised that I didn't notice any thermal related issue. The PSU housing which looks pretty cool also provided just the right amount of space for proper cable management (tieing and hiding cables) allowing a quick easy install and more importantly clean looking PC.
Other than the strange PSU placement the design is solid and gives plenty of room for drives, VGA, Liquid cooling or just about anything you may want to add into an Extreme PC build. At its current price point of $99.99, it makes it a great deal for this level PC case.
Case Build / Performance
Thermal Performance: It performed as expected for a performance level case at this price point. The only thing missing were case fans. Keep that in mind when building out your PC with this case. As it does NOT come with any fans.
The unit does come with a side panel magnetic dust filter and a removable bottom dust filter that covers the entire bottom of the case. Helping reduce dust build up and heat.
Cable management: More than adequate as the PSU housing provides a decent amount of space to properly clean up your cables when routing them.
Transportability: Surprisingly enough I would say this case is very easy to move around. Its solid build and features like the included VGA anti-sag bracket really helps in this area.
Overview
Antec is obviously extremely capable of creating great cases and I have to say they did a great job with this one.
The case is excellent and the only thing I'm really missing from the P120 Crystal is the fans and some lighting. Yes, I said it lighting. For those who know me, I hate RGB lighting (when overdone) but I do think it could use some LEDs to really make this case shine. Especially, knowing it would only cost a few dollars to add in pre-installed LED strip its something Antec should consider in a P120 Crystal PRO ;-).
Overall, the Antec P120 Crystal is an extremely well put together, attractive and solid case. It is well worth a look when considering any tempered glass build. This is why it has earned both our Best Value and Editor's Choice Awards.
AVAILABLE now at Amazon.com, Newegg.com