Mushkin Partners with 20th Century Fox and Marvell on Mushkin's "DEADPOOL" Sweepstakes

Austin, TX – May 10, 2016 – Mushkin Enhanced MFG, an industry-leading designer and manufacturer of high-performance and mission-critical computer products, has announced its sweepstakes partnership with 20th Century Fox and Marvell on the Blu-rayTM release of "DEADPOOL".  Those who enter will have the opportunity to win an Amazing grand prize pack as well as a chance to win a brand NEW RAZER Blade Gaming Notebook. Ten other participants also have the chance to win a Blu-ray of DEADPOOL and prize packs valued at $150.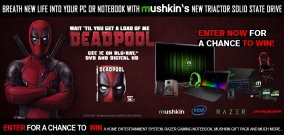 "For an animation-heavy films like "DEADPOOL", utilizing highly capable tools to plow through the rendering process is a fundamental need that Mushkin's SSD line-up embraces." Said Brian Flood, Director of Product Development at Mushkin Inc. "With the release of our New ECO3 and TRIACTOR SSDs Mushkin brings those tools to the masses at prices that can't be passed up.".
Experience how fast computing can be by eliminating storage bottlenecks with our ECO3 and TRIACTOR SSD Product Line ups.  Engineered in the USA, Mushkin SSDs leverage the latest NAND flash and controller technologies to bring you incredibly fast and reliable storage
The Sweepstakes begins at 12:01 AM Pacific Standard Time ("PST") on May 10, 2016 and ends at 11:59 PM PST on June 20, 2016.
For more information or to enter, please visit:
USA & Canada: http://www.poweredbymushkin.com/DEADPOOL/
Germany: http://bit.ly/1XjU2Za
U.K.: http://bit.ly/27bGRhg