VIOTEK Launches New Super Ultra-Wide 49" Curved HDR Gaming Display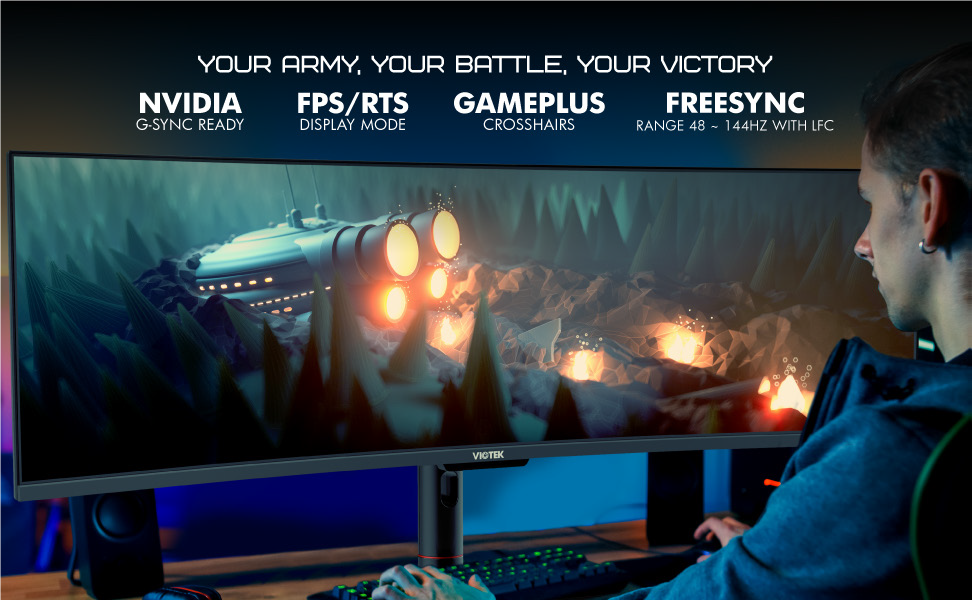 Viotek, a provider of gaming peripherals and other consumer electronics, today announced the launch of its next-generation 49-inch DQHD Super Ultra-wide curved gaming display the SUW49DA. The latest addition to Viotek's industry-leading line up of ultra-wide gaming displays and is available starting today at major online retailers.
"Following our recent win of the TomsHardware Editor's Choice Award for our GNV34DBE Ultra-Wide, we are excited to announce our latest addition a Super Ultra-wide 49-inch 120Hz 5120X1440P Gaming monitor our SUW49DA," said Brett Barbour, Vice President at Viotek." The SUW49DA monitor takes immersive gaming to the next level, and we are proud to be able to offer it at a price that makes sense."
Designed for the ever-demanding needs of gamers, video creators, editors, and professionals alike the new SUW49DA features a spacious 49-inch 5120x1440P Dual Quad HD (DQHD) resolution and a super ultra-wide 32:9 aspect ratio for a jaw-dropping, cinematic field of view.
Other features include:
LIGHTNING-FAST 120Hz Flicker-free video. Buttery smooth transitions. Zero dropped frames. Twice as fast as the standard monitor.
VISUALLY STUNNING Images come to life with dazzling color, contrast and brightness. The VA panel produces deep blacks, brilliant whites and rich RGBs that engage the senses.
EYESHIELD Integrated Blue Light Filter settings protect you from harmful blue light. Allowing you to go even longer without digital eye fatigue. Viotek's Blue light settings ensure a comfortable viewing experience while keeping your eyes healthy at the same time.
PRODUCTIVITY POWERHOUSE Replace your multi-screen setup for a single master view. A 49-inch 32:9 superwide screen & 5120 x 1440 resolution, like having two full-sized displays side-by-side.
OPTIMAL VIEWING COMFORT Make every seat the best seat in the house with the adjustable stand. Or use VESA to mount to a wall to maximize space.
GAME-WINNING FEATURES Stay on top of the game. Dominate the leaderboards. AMD FreeSync, FPS/RTS display optimization,
GAMEPLUS crosshairs. Victory awaits.
In addition to an impressive features list, Viotek is backed by one of the industry's most comprehensive 3-Years Limited Warranty, which includes a Zero-Tolerance Dead Pixel Policy and U.S. based Technical Support available via e-mail, phone or live chat.