MUTRICS MUSIG X AUDIO SUNGLASSES REVIEW – MUSIG X BLACK BLUE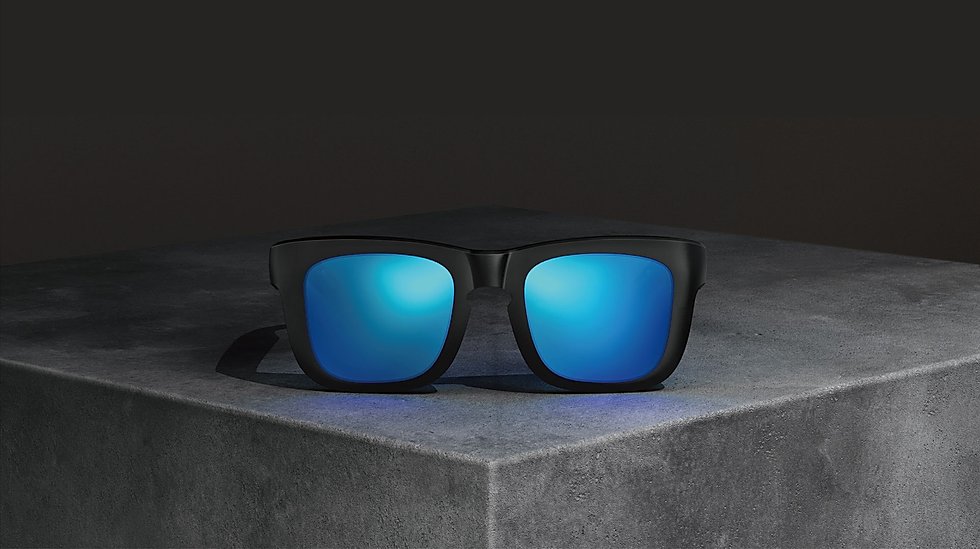 Today we will be taking a look at Mutrics MUSIG X Smart Audio Glasses.
With today's Mutrics MUSIG X review, I get the opportunity to see if merging sunglasses and earphones will work well in replacing the need for me to carry earbuds and sunglasses while on my walks.
So, who is Mutrics? honestly, we don't really know much, but what is on there website and it seem that they have come out of nowhere and have been trying hard to build a name for themselves in the Smart Audio Glasses space starting with their MUSIG X line which we will be reviewing. Other than that they appear to be a run of the mill Shenzhen, China Start-up.

SPECIFICATIONS:
Dimensions/weight:
51 mm – 16 mm – 155 mm / 50g
(Lens width – Distance between lenses – Temple length)
Additional details:
Lenses: UV400 lens
Water resistance: IP-55
Smart Assistant: Google + Siri Assitant Compatible
Bluetooth 5.0: roughly 30 ft range
Battery charging time: Up to 2 hours
Battery life: Up to 8 hours of streaming music playback

Whats in the box:
Mutrics MUSIG X Frames
Carry case
Charging cable
Cloth bag
Very clean simple classic design in a size that actually fits most people. Even someone with a big head like me.
Having already played with Bose's Alto Smart Glasses in the past I did have high expectations of whatever came next. Bose, of course, known for its top-notch audio and speaker systems, was one of the first to enter the smart glasses market with the Bose Alto Frames. Mainly focusing on what the company does best, sound, they essentially built the gold standard for Smart Audio Glasses. The Audio quality is so good I could actually say, the Bose Frames might even be good enough to replace my wireless earbuds altogether. So let's see how Mutrics MUSIG X does.

EASE OF USE:
Like most devices nowadays, the glasses can easily be paired with just about any Bluetooth enabled device. the only drawback is its proprietary charge cable. Meaning, be careful not to forget it after charging or while on vacation. Finding a replacement is not easy and would require reaching out to Mutrics directly.
BUILD QUALITY:
Both Mutrics and Bose used dense plastic for their frames. The upside is that they are both lightweight and do appear to be of decent quality. The Mutrics MUSIG X construction should withstand moderate physical stress, better than an off-brand but not a top name brand. Overall, build quality was an 8.
AUDIO QUALITY:
In terms of audio quality, the MUSIG X features a Virtual 5.1 Channel Surround Sounds System, and uses a "Special" sound cavity to help enhance audio quality. Surprisingly enough with dual micro speakers, the sound clarity was impressive, although when it came to bass you may want to look elsewhere for headphones that pack more of a punch. Overall, the sound quality was 7.6.
BATTERY LIFE:
Remarkably, these outperformed Bose when it came to a battery test. Bose states their Alta frames last 3.5 hrs while streaming audio and although the MUSIG X Battery life is rated at 8 hours I was able to get a total of 5.5 hours of use out of them.
COMFORT:
They're light-weight and fairly comfortable to wear, and with it actually having a waterproof rating of IP-55 as listed on their website these make for great beach or pool-side glasses. Overall, the sound quality was 7.2 and this is because I realized that in order to get the best sound quality I had to move them around quite a bit.
VALUE:
At 129.00 from Walmart.com these are not too bad of a deal, being $70 less than Bose. Although we're still big fans of the Bose Alta Frames, these are still at the top of our value pick list.

CONCLUSION:
That said, these are NOT Bose Alta Frames but are not bad for those looking to save some cash. The main thing holding these back is the lack of Bass. There's definitely a notable emphasis on vocals and not so much on bass, meaning these earbuds are better for those that enjoy classical music or more orchestral sounds.
Pros:
Durable and Classic design
8 hr Battery life (More like 6.5 hrs real world)
Latest Bluetooth 5.0
Sizing available for most people. Including those with larger heads.
Google + Siri Assitant
IP55 Sweat Resistance
Cons:
Proprietary Charging Cable
Bass was on the weak side