ESR REBOUND MAGNETIC KEYBOARD CASE REVIEW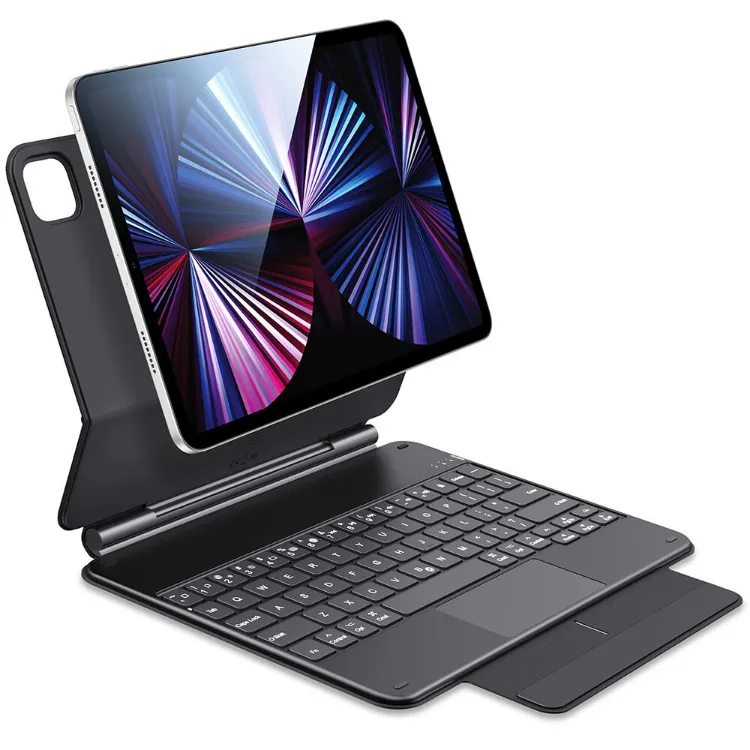 The ESR Rebound Magnetic Keyboard Case for the iPad Pro 11 (2022) – helps turn your tablet into a pseudo-laptop. But hey, let's be real, before stumbling upon this hidden gem, I had no clue who ESR was either. It was like discovering a secret society of iPad accessory enthusiasts! So, let's dive into this review while trying to keep our professionalism intact, shall we?
Now, picture this: I had the chance to put it to the test during my recent business trip to CES 2023. And let me tell you, it's an impressive and well-crafted keyboard case that essentially transforms your iPad into a laptop, with a few limitations that I hope ESR will address.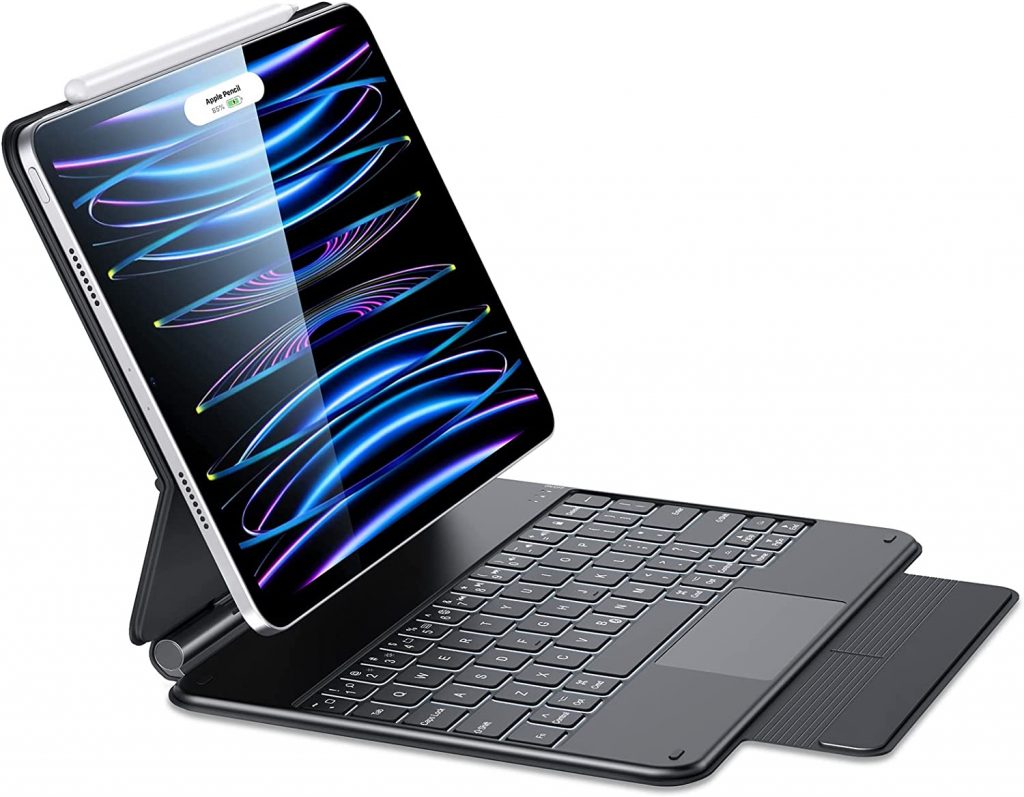 Let's take a look at the specifications, just to get that out of the way:
Compatibility:
iPad Air 5/4 (2022/2020), iPad Pro 11 (2022/2021/2020/2018), iPad 10th Generation, and iPad Pro 12.9″ (2022/2021/2020/2018)
Quick Set Magnetic Stand:
This floating cantilever stand knows the perfect angle to impress you just by opening the case.
Quick and Easy Navigation:
Precision trackpad with full multi-touch gesture support.
Connectivity:
Net Weight
26.8 oz (760 g)
Gross Weight
31.7 oz (900 g)
Length
10.0″ (255 mm)
Width
0.6″ (16 mm)
Height
0.5″ (12 mm)
Closer Look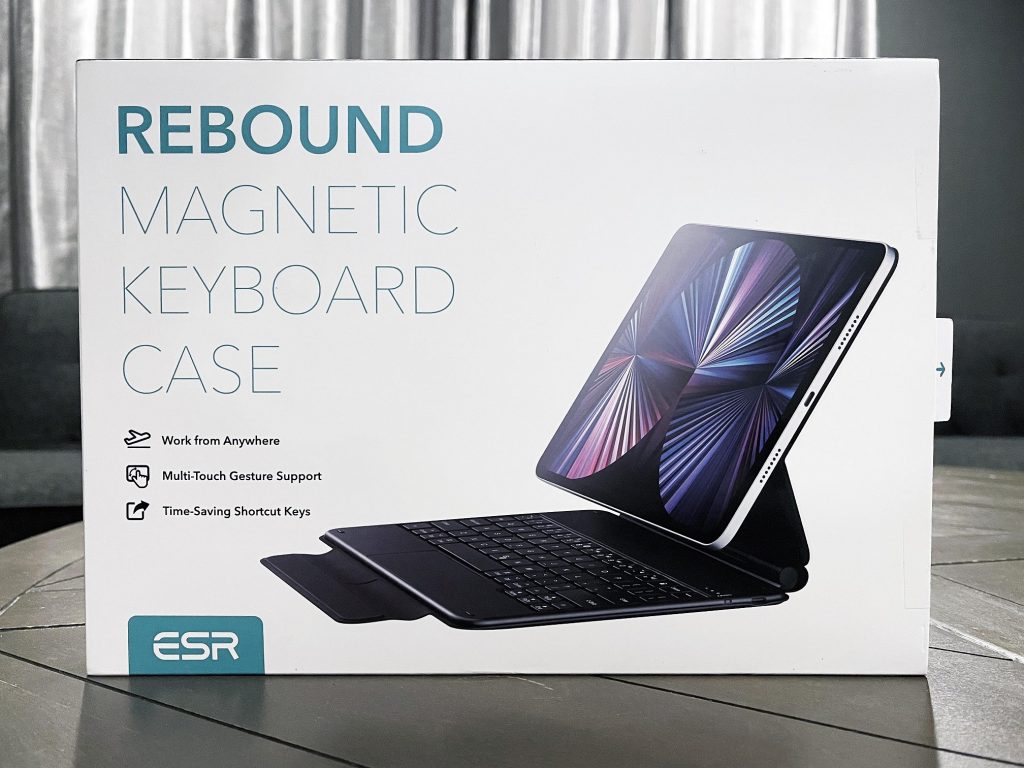 Now, let's get down to the nitty-gritty of build quality and performance, like a no-nonsense critic.
Pros:
The overall feel and functionality was great. It gave me the complete computer experience during my entire trip, sparing me from lugging around a bulky notebook. For those that attend many of these know what I am talking about.
The trackpad did its job decently. Some may wonder why bother with a trackpad on a tablet, but it came in handy when editing some files.
The keyboard keys were acceptable, but sometimes a bit finicky. I had afew times when the keys were getting stuck but eventually worked its self out.
It's Apple Pencil friendly
It even survived a few falls like a champ, ensuring my precious iPad remained safe. Although, I must admit, it did shift a little, which made me a tad nervous. Maybe ESR should consider creating an ESR Project Zero Soft Case, that is compatible with the rebound making it a a superhero sidekick that provides an extra layer of protection.
Cons:
Now, the keyboard. The most crucial part of any keyboard case, right? Well, as I sadly mentioned before, it had a few issues. The keys use a scissor-switch mechanism, and I had a few sticky key situations that left me frowning during my trip. Not a deal-breaker as it eventually worked its self out, but definitely worth mentioning.
Personally, I'd prefer if the keyboard didn't require separate charging. You know, like Apple's Smart Keyboard Folio, which sips power from the iPad itself while charging.
Installation:
Step 1: Align the camera with the case opening, and let the magnets work their magic.
Step 2: Sit back, relax, and enjoy the show. It's as simple as that.
Now, let's answer the ultimate question: Can this replace a laptop?
Well,let me put it this way, it did a pretty good job as a temporary laptop replacement during my trip. But let's not get carried away here, as a main PC, it falls a bit short. It's still a tablet, after all, and it can't quite keep up with the big boys of the laptop world. Sorry, iPad Pro, you're good, but you're not laptop-good.
The ESR Rebound Magnetic Keyboard Case makes the iPad Pro a better iPad, and that's a definite YES!
Conclusion
In conclusion, the iPad Pro 11 with the ESR Rebound Magnetic Keyboard Case is a match made in tech heaven. It's incredibly portable, and with this case, it becomes a complete solution. Despite its quirks, I find myself reaching for my iPad more often, whether I'm at my desk, lounging in a chair, or even enjoying a movie. My book reading experience has transformed too! It's the perfect companion for Teams and Zoom meetings, as it elevates the height to a much more comfortable level.
Sure, Apple has its own Magic Keyboard, but let's be real, it comes with a hefty price tag of $299.99. Ouch! Meanwhile, the ESR Rebound Magnetic Keyboard Case gives you a similar experience for just $129.99. That's a steal, my friend! For that reason, we proudly bestow upon it our Editor's Choice Award. ESR, you're doing something right!
So, if you're looking to take your iPad to the next level, give the ESR Rebound Magnetic Keyboard Case a whirl. Trust me, you won't be disappointed.